Rukka AirAll Motorcycle Suit
The Rukka AirAll jacket is a fantastic new summer jacket that is not only very practical but also affordable.
The jacket is available in three different colours and it is jam-packed with pretty much all the quality we expect from Rukka. The cool thing about this jacket is that when you remove the thermo-lining you have one of the best vented summer bike jackets on the market, a perfect choice for tours in tropical countries or even in the Sahara. The Rukka D3O protection keeps your shoulders and elbows safe in case of a fall. This D3O material is extremely shock resistant and it ensures the impact is always perfectly absorbed. The outer layer is made from the extremely durable and tough Cordura material with double reinforcements on the critical impact areas.
All these qualities are also true for the trousers with exception of the different colors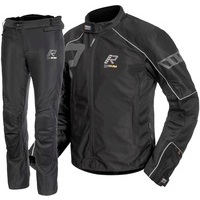 Ideal for the summer
D3O Air protection
Knitted Cordura AFT and AFT+
What makes the Rukka AirAll unique?
Rukka motorcycle gear is known as the most technological and most trustworthy brand you will find on the market. With Rukka you're choosing quality.
Rukka AirAll Specifications:
Material:
Knitted Cordura AFT and AFT +
Knitted AFT two layer reinforcements on the elbows and knees
Protection:
Rukka D3O EVO CE-Rated Level 1 (EN 1621-1 2012). The D3O particles move freely when the movements of the rider are slow. This makes the material feel like it's custom made. At impact the D3O particles clench together to absorb and spread the energy of the impact making the shock less intense. The bigger the impact, the more the particles clench together and the better the protection.
Jacket has a connection zipper.
Specials:
Jacket:
AFT Plus material on the sides and sleeves
Collar with Velcro clasp
Adjustment possibilities on the sleeves, chest and back
Five pockets: two front pockets, one waterproof inner-pocket and two napoleon pockets
Trousers:
AFT Plus material on the sides, rear end and legs
Belt loop
Prepared for braces.
Anti-glide system and AirCushion made from Keprotec on the sitting area. The Rukka Anti-glide system ensure you don't start to slide when your seat of trousers get wet. The Keprotec AirCushion makes long journeys more comfortable. You will be seated more comfortably and the difference in temperature between the seat and your own body will be much less noticeable.
One pocket with zipper.