Rukka Aramos Motorcycle Jacket
The Rukka Aramos jacket is a completely new model in Rukka's collection of jackets and it is entirely made of leather. What makes this jacket interesting is that it is laminated with the Corium+ Platinum membrane, which is the strongest membrane Corium makes. Thanks to this, the Rukka Aramos is fully wind- and waterproof.
Scroll down below for more information on the Rukka Aramos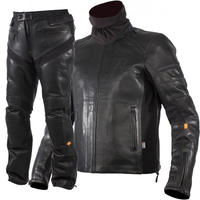 This jacket may look like it can only be worn in the winter, but that's not the case. The leather is perforated and laminated with the Corium+ Platinum membrane. In the summer, the jacket allows wind through the leather and cools the membrane. This won't be a problem when wearing the jacket during the winter, because the thermal inner lining will keep you warm.
The Rukka Aramos does not disappoint when it comes to protection. The shoulders and elbows are equipped with the CE-approved D3O protectors and the back is protected with an All Back Protector. In addition, the outer layer of leather is strong enough to protect you during falls.
For optimal comfort, Rukka decided to give this jacket several elastic parts, such as the sides, arms, armpits and back. On the frontside of the jacket, there are two waterproof pockets, and on the inside there is one pocket, which is perfect for your phone.
Rukka Aramos Specifications:
Material:
Breathable, wind- and waterproof 3-layer perforated aniline leather Corium+ laminate
Comfortable neoprene collar
Ventilation
Elastic parts on the side, arms, armpits, and back
Stretch panels above the elbows and lower back
Adjustability
Two waterproof pockets on the outside
One waterproof pocket on the inside
One pocket in the removable inner jacket
Protection
D3O protection on the shoulders and elbows
All Back protector
Comfort and special features
Removable collar
Removable thermal inner jacket